Experience the natural exhilaration of winter on some of the finest trails in the East. Hamilton County has over 750 miles of groomed snowmobile trails for your riding pleasure - the biggest trail system in the state - and over 500 miles of cross-country ski trails. And every bend, every open stretch, every inch is free.
The miles of unplowed seasonal roads and wilderness trails wind beside partially frozen rivers and waterfalls, through narrow valleys and majestic old-growth forests. Panoramic vistas of the surrounding mountains appear at every turn, viewed from the shore of a remote frozen lake or through the open hardwood forests of winter. Wildlife is abundant in these deep forests. You may catch a glimpse of a whitetail deer, turkey, coyote or otter.
Enjoy a time of discovery...wildlife and spectacular winter scenery, warm cozy inns and lodges, fine restaurants and other Hamilton County pit stops.
SNOWMOBILE TRAILS IN NEW YORK STATE
New York State has designated carefully surveyed trails within the State Forest Preserve and State Parks for snowmobile use. As sportsmen, it is important that snowmobilers recognize their responsibility for preserving the wildness and beauty of the land their vehicles enable them to enjoy.
Please refer to "Snowmobiling in New York State", published by DEC, for specific laws and regulations governing the use of snowmobiles on state land.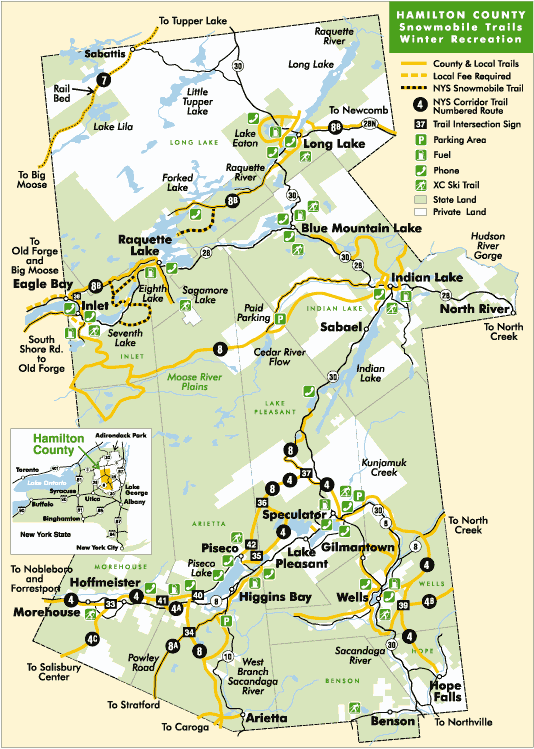 Snowmobiling Information Center


Adirondacks.com assumes no liability or responsibility for trail conditions or the use of these maps. Please consult the New York State DEC for updated trail descriptions and conditions.